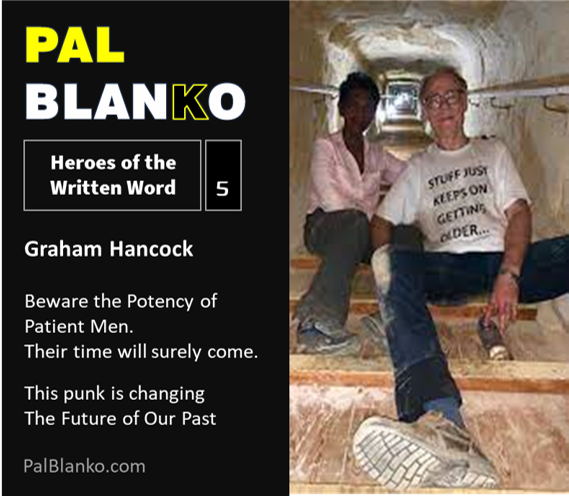 Heroes of the Written Word
 [5] Graham Hancock

 
I tell you. He's onto something... He may not be right about it all. He may in fact be wrong about a whole bunch of things. But that's not the point. The point is that he's trying to join the dots. He's gone full cross-discipline, and is hunting the bigger picture.
Ask Big Questions.
Get Big Answers.
I love how much irritation he causes so many people, just by asking simple questions.
In some ways, it's not the "Graham Hancock bit" of the Graham Hancock debate that's so captivating, but instead it's the behaviour of his intellectual adversaries, and their wild neuralgic responses that make it all so captivating. The vociferousness with which they instantaneously denounce him, is just so telling...
Hancock's battle with mainstream archaeology is akin to watching an adult in a supermarket aisle, negotiating with a bunch of toddlers, who're rolling on the floor; and screaming, and shouting, and kicking their legs.
Here's to patience. Here's to calmness. Here's to Graham.
Here's to the Contrarians and the Agent Provocateurs, who keep-on getting things right...
- Pal Blanko
For Heroes of the Written Word [1]:
ANTHONY BOURDAIN, click here
For Heroes of the Written Word [2]:
HUNTER S. THOMPSON, click here
For Heroes of the Written Word [3]:
RYSZARD KAPUSCINSKI., click here
For Heroes of the Written Word [4]:
ERNEST HEMINGWAY, click here
For Heroes of the Written Word [5]:
GRAHAM HANCOCK
For Heroes of the Written Word [6]:
MALCOLM GLADWELL, click here