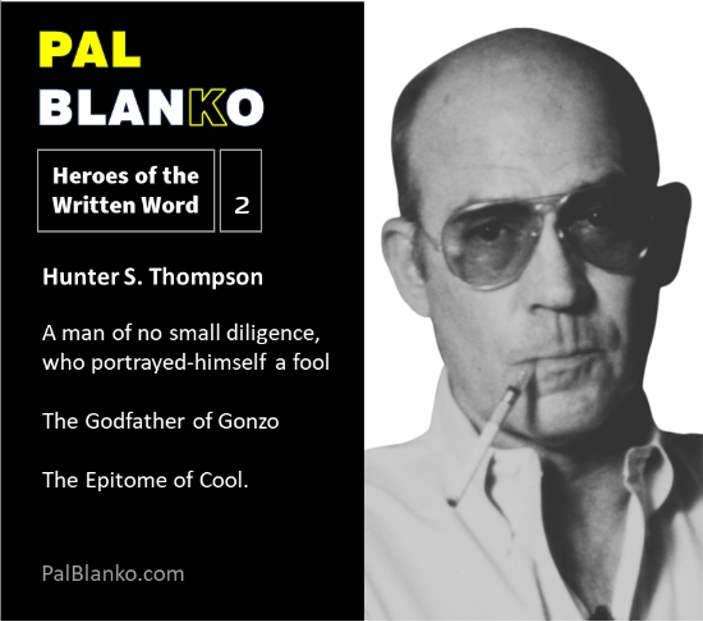 Heroes of the Written Word
  [2] Hunter S. Thompson

 
It was a girl with a Ducati, that got me into Hunter. The tattoo on her forearm read "Faster... Faster... Until the Thrill of Speed Overcomes the Fear of Death". She said that it came from a motorbike review by a guy called Thompson. The piece was called 'Song of the Sausage Creature', and from that moment on... Wacko! ...I was hooked.
The first Hunter book that I read was Hell's Angels. Some cat I knew was organising a re-enactment of a riot from the 1960s, based on the same work - so I thought I'd give it a read and let myself know what I was getting into. However, in true Hunter style, I accepted the invite first, and then started my research.
I remember sitting with the book in my hands; my reading dragged-down to a shuddering stop, by the tears of laughter that ran down my cheek.
The fact that Thompson could describe his drunken demo of firepower (through his own apartment-wall) as 'good-natured', and the notion that he was waiting for and explanation of his own actions '...the reasons for which, have not yet been fully explained' shows Hunter at his best. You have to be savagely intelligent to write prose so warped, and quite so absurd.
Graffiti-artist Banksy once said, that his 'mindless-acts-of-vandalism', often require a great deal of thought - and the same is true of Hunter. To think of him an idiot, is to make of yourself a fool.
- Pal Blanko
For Heroes of the Written Word [1]:
ANTHONY BOURDAIN, click here
For Heroes of the Written Word [2]:
HUNTER S. THOMPSON
For Heroes of the Written Word [3]:
RYSZARD KAPUSCINSKI, click here
For Heroes of the Written Word [4]:
ERNEST HEMINGWAY, click here
For Heroes of the Written Word [5]:
GRAHAM HANCOCK, click here
For Heroes of the Written Word [6]:
MALCOLM GLADWELL, click here