ADVENTURE TRAVEL 

I

  STORIES
ADVENTURE TRAVEL 

I

  STORIES
Travel with Pal; to the West Coast of Africa, the suburbs of Luanda, and the centre of London's hipster scene. Revel in the madness. Savour the flavour. Blanko looks at the world through gonzo-coloured glasses, and the results are never too far from: anarchy, motorcycles and death.
Click on image to read...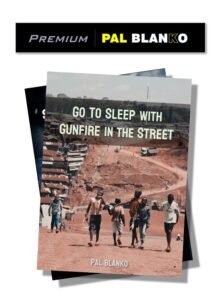 Further reportage and adventure stories from Pal Blanko:
Want more of the good stuff ?
Sign-up for the Pal blanko Newsletter below...
This page features some of the stories of Pal Blanko's adventures. Take your pick of which trip you'd like to take: Journey to Morocco, travel to Africa, fly up to Finland, ride into London, or even join a riot!  With over 100 Pal Blanko stories to choose from, there's something for everyone...
We heartily encourage you: dive deep into Blanko, and go gorge on the gonzo.
- Team PB